CMK Chinese New Year Buddist Celebration Nano Nagle Place Picture Clare Keogh
 2020 is the Year of the Rat according to Chinese zodiac. This is a Year of Metal Rat, starting from the 2020 Chinese New Year on Jan. 25 and lasting to 2021 Lunar New Year's Eve on Feb. 11.
Rat is the first in the 12-year cycle of Chinese zodiac. The Years of the Rat include 1912, 1924, 1936, 1948, 1960, 1972, 1984, 1996, 2008, 2020, 2032…

Though people consider the rat not adorable, and it even makes its way into derogatory languages, it ranks first on the Chinese zodiac signs.
It has characteristics of an animal with spirit, wit, alertness, delicacy, flexibility and vitality.

Earthly Branch of Birth Year: Zi
Wu Xing (The Five Elements): Shui (Water)
Yin Yang: Yang
Years of the Rat
| Rat Year | Start | End |
| --- | --- | --- |
| 1924 | Feb.5,1924 | Jan.23,1925 |
| 1936 | Jan.24,1936 | Feb.10,1937 |
| 1948 | Feb.10,1948 | Jan.28,1949 |
| 1960 | Jan.28,1960 | Feb.14,1961 |
| 1972 | Feb.15,1972 | Feb.2,1973 |
| 1984 | Feb.2,1984 | Feb.19,1985 |
| 1996 | Feb.19,1996 | Feb.6,1997 |
| 2008 | Feb.6,2008 | Jan.25,2009 |
| 2020 | Jan.25,2020 | Feb.11,2021 |
| 2032 | Feb.11,2032 | Jan.30,2033 |
Lucky Signs for People Born in Rat Year:
Lucky Numbers: 2, 3
Lucky Colors: gold, blue, green
Lucky Flowers: lily, African violet, lily of the valley
Lucky Directions: southeast, northeast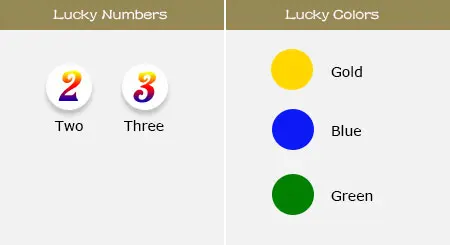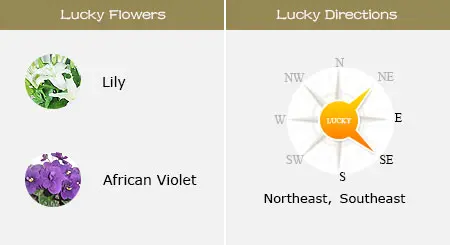 Things Should be Avoided:
Unlucky Numbers: 5, 9
Unlucky Colors: yellow, brown
Unlucky Direction: west
People born in the Year of the Rat are instinctive, acute and alert in nature which makes them to be brilliant businessmen. They can always react properly before the worst circumstances take place. They are also sophisticated and popular in social interaction. They are sanguine and very adaptable, being popular with others.

Strengths
Adaptable, smart, cautious, acute, alert, positive, flexible, outgoing, cheerful
Weaknesses
Timid, unstable, stubborn, picky, lack of persistence, querulous
See more about Destiny by Birth Month, Destiny by Birth Date
Best Matches: Ox, Dragon, Monkey
They can get along with Ox, Dragon and Monkey partners, and their relationship will be well maintained as fresh as before. There is no big rise and fall in their life time, but will never be a lack of romance and passion.
Bad Matches: Horse, Rooster
If they get together, there will be endless quarrels. They are all sharp in words, and seldom make compromises. Picky in each other's faults, they cannot be tolerant, which leads to their final divergence.
See more about Chinese Zodiac Sign Compatibility
The coming year, may bring challenging circumstances to those born under any of the unfavorable signs listed below.
UNFAVORABLE SIGNS FOR 2020
RAT
1936, 1948, 1960, 1972, 1984, 1996, 2008, 2020
HORSE:
1930, 1942, 1954, 1966, 1978, 1990, 2002, 2014
ROOSTER:
1933, 1945, 1957, 1969, 1981, 1993, 2005, 2017
RABBIT:
1927, 1939, 1951, 1963, 1975, 1987, 1999, 2011
For people born in the year of the Rat, Horse, Rooster or Rabbit; this is the time of year to make charitable & virtuous "An-Tai-Sui" donations on behalf of yourself and your loved ones with a €32 or € 72, € 108, € 300 or greater offering to be included on the beneficiary list for these protective and life-enhancing Dharma Rites.
Your details will also be sent to the following temples:
Yong He Gong Temple, one of the largest and most important Tibetan Buddhist temples in the world. This is a unique opportunity to be included and benefit from their New Year Service.
Dari Rulai Temple . Our main temple in the USA.
In Chinese astrology every year is governed by a zodiac sign. Your personal zodiac sign is determined according to your birth year. Your luck is affected by the sign of the current year.
One way to understand this is to realise that as we journey through life we all encounter "bumps/potholes" in the road.
If you have multiple requests please use multiple forms and e mail to corkhanmi@gmail.com or post to
Mary O Connor, Cork Hanmi Group, 32 Bowling Green, White Street, Cork Ireland T12 VW31
An Tai Sui Dharma Rite
Request for a Business: €300, €600, €900 or greater
.New Year's Spiritual Blessing Lamps
Receive spiritual blessing and assistance throughout the year. Anyone, regardless of birth year, can request to have one or more special lamps lit on the behalf of themselves or a loved one. Lamps are €108 each
Safe & Well Lamp: Blessing for health and good luck.
Asking for Wealth Lamp:Blessing for abundance and prosperity.
Longevity Lamp: Prayer for long life.
Great Merit Lamp:Propitiation to Buddhas for success with dharma practice
Career Lamp: Blessing for good luck with child or grand-child's / neice / nephew's career.
If you wish to add several names to the list submit one name at a time and refresh the page, if you get frustrated with things technical call me or e mail me Mary O Connor + 353 (0) 89 4717922 corkhanmi@gmail.com
Any questions ?
Call Mary + 353 (0) 89 4717922 Ireland or email corkhanmi@gmail.com
For UK email Sifu Jules of Jambhala Centre julia3636@sky.com
For USA Sifu Douglas: Dari Rulai Temple Los Angeles + 1 (626) 7365210 / email sayhellotodouglas@yahoo.com Donate your offering here
Offering made through PayPal link hanmidana@gmail.com